184 Spectacular Outings in the Colorado Rockies
One of the most comprehensive hiking and biking books available.
Alan Apt, author of the best-selling guidebook, Snowshoe Routes Colorado's Front Range, and Kay Turnbaugh, author of Around Nederland, carefully describe 184 adventures for people of all abilities and interests.
The book includes everything from easy access Front Range lakeside strolls to high challenging treks among the high peaks. Many trails are great for kids (of all ages)—less ambitious but highly satisfying, easy gambols in the natural world.
Published by Wilderness Press.
The geographical scope of the book stretches from the Fort Collins area to Colorado Springs, and west to Rocky Mountain National Park, Fairplay, and Independence Pass; with superb coverage of mountains, plains, canyons and riverside adventures.
The new edition offers much more than the first edition, with:
184 trails, many of them new

60+ hikes within one hour of Denver-Boulder

33 peak summit hikes--20 mountain summits, 13 foothills

80 hikes with options for families with kids

43 hikes in Rocky Mountain National Park

57 hikes to lakes

65 trails good for mountain biking


80 trails good for winter sports
Published:
May 18, 2015
Genres:
Excerpt:
One of the hikes we couldn't fit into the book:
Hiking French Pass Trail in South Park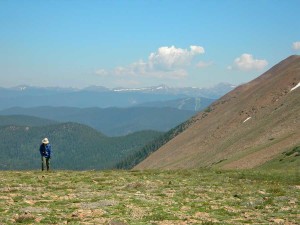 Reviews:
Ward Luthi, President, Walking the World

wrote:
If you want to buy only one hiking book, this is it. It has 184 great trails, including summits and lakes, as well as hikes for families and bikers. Enjoy the excellent advice based on Apt's 40 years of hiking in Colorado. This book will supply you with beautiful places to explore for years.