This is a very good letter writing day, cool and rainy. I'm sitting in the dining room writing. It's cozy and warm in here and a little too cold in the cabin. It really is a pretty dining room. I think there is a picture of it in the folder. They have it decorated with aspen leaves, gold and red. It must be wonderful here in the fall.


        Yesterday we started to walk to the fish hatchery again and Mrs. Rushton, the one who rode to town with us Tuesday, came along and picked us up. She is so nice to us and treats us as tho we were guests— rather than dining room girls. She has two darling children whom she has adopted and a nurse to take care of them. They are staying all summer. She is quite a musician and plays the piano beautifully and is an all around good sport. Everyone likes her.
On the way home the car began to sputter and on Horseshoe Hill it stopped. We had quite a time getting back but finally made it with the old car bucking and sputtering every minute. We found the distributing points were warm or something like that. …
Horseshoe Inn
Tuesday, July 13, 1926
We had a wonderful hike up to Chasm Falls. As we were going up the road we met some people who were trying to find the falls, so they went along with us. Ruth thot [sic] she knew a short cut from the road to the one above, so we started up and kept going and going. Ruth finally let me hike the lead because it was hard picking a way. The rocks were so steep and slick.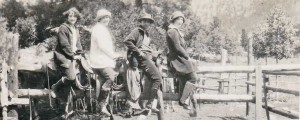 I went ahead, scrambling over the rocks and edging along as best I could. Finally I looked back to see if the others were coming and far below me I saw the four switchbacks and the falls. Ruth had started off the road too far down, and we had missed all four switchbacks. The road goes like this up the mountain.
The turns are called switchbacks. I'm sure there's a picture of these switchbacks in the bunch of pictures I sent you. It certainly was thrilling. About the first real mountain climbing we've done, but it's really not wise to get off a trail. Ruth was pretty well scared in several places, and I had to help her across.
The people—a man and his wife— were very nice to us. It was terrible hard on her as she had skirts on, but they didn't go up as high as we did. There was one place as we were coming down that even the man was afraid to attempt, but I got across all right, then held my foot for the others to step on.
The Falls certainly are beautiful. They rush down with a great deal more power than Horseshoe Falls....
COLLAPSE