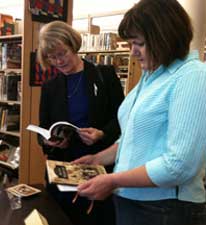 Sept. 24, Thursday, 1:30-2:30 p.m.
Lee Tillotson and I will give a presentation- slideshow at the Estes Park Museum for Rocky Mountain National Park Dining Room Girl.
Thursday, Oct. 15, 7 p.m.
Lee and I will be the Nederland Library to give a presentation and sign books.
A couple of the people who stopped by one of the local author events I have attended.