Cattle still reign as modern ranchers diversify
Whether it's food, entertainment, or education, Boulder County's ranches have been an integral part of the county since our native grasslands first attracted homesteaders in the 1800s.
Sprawling ranches on the plains and in the mountains raised cattle for food and horses for transportation. In the 1940s, traffic jams were common on Sunday mornings when crowds swarmed to the Lazy V V Ranch (now Caribou Ranch) near Nederland to see Arabian horse shows hosted by the Van Vleets and hobnob with dignitaries from around the world.
Today the county is still home to some long-time ranching operations and has welcomed smaller newcomers, who are serving the new healthy-eating niche market. Today's ranches still benefit from the native grasslands, and they still raise horses, cattle, sheep, and hay. But they also raise alpacas, host birthday parties, and welcome summer camps.
The Grass-fed Movement
When Don and Marianne Stilson started selling grass-fed beef in 1985, buyers were scarce.
The Stilsons bought the B Bar S Ranch on Magnolia Road in 1965 and boarded horses. They purchased their first cows in 1979 and made the transition to cattle raising in the 1980s.
In 1985 they read an article by a professor at Colorado State University that compared grass-fed beef to traditional grain-fed beef. "It said people could eat it, so we started selling, but we didn't have many buyers," Don says.
As the market for grass-fed, grass-finished beef continued to slowly grow, the Stilsons expanded their operation to a 500-acre ranch south of Elizabeth, Colorado, in 1991. Their daughter Anne and her husband Grady run that ranch, where they breed the cattle. The yearlings are transferred to the Magnolia Road location where they graze on the native pasture over the summer.
Until the last few years, it cost more to raise the cattle than the Stilsons made from them. But then the organic, farm-to-table movement took off, and the Stilsons found their market, in large part due to the Internet. Today, they could sell far more than they could ever handle on their 100 acres.
Although Bill and Claudia Berg have been ranching in Boulder County "for only 10 years," they too have found that the niche market of grass-fed and grass-finished beef serves them well.
When they started their business, they purchased steers from an auction in Fort Collins which they would then fatten and sell. The problem with that model, says Bill, is that "It was hit and miss what we'd get," and their customers, who buy a half or a quarter of an animal, wanted to know more about what they were getting.
The first change the Bergs made was to try feeding their animals grass for 90 percent of their lives, finishing the last 10 percent on corn, which made their beef grass-fed. Three or four years ago, they decided to finish their cattle by feeding them alfalfa for the last 10 percent of their lives, making them grass-fed and grass-finished.
"It takes longer to gain the weight," says Bill, "but the people who buy it love it." He has several repeat customers who are enduring chemo-therapy and whose doctors have recommended grass-fed, grass-finished beef. Other customers tell him how much better his beef tastes than supermarket meat.
The Bergs live on their 30-acre Ridge Ranch near Hygiene where they currently have 16 animals on the ground and five pregnant cows. Three years ago during the Texas hay drought, they bought another 30 acres five miles away as a hay farm and independent food source. They send three to six cattle a year to the butcher, and sell to individuals in the Boulder-Denver area. They also credit the Internet with changing their business, making it possible to connect with customers who are interested in their grass-fed, grass-finished beef.
Diversify or die
Geoff Hoyl's family has owned Los Lagos Ranch near Nederland for 121 years.
Cattle ranching at an elevation of 8,800 feet is challenging. The cattle have to be trucked to a lower elevation at either the beginning or the end of the season to put on enough weight. The family leases pasture, and this last summer they had 20 cow-calf pairs and one bull grazing their high-altitude grasses.
Every year the family invites experts from Colorado State University and USDA's Natural Resources Conservation Service to walk all their pastures to estimate grazing capacity. They receive a recommendation on how many cattle they can graze, how long in each pasture, and how to stagger the grazing in various pastures from year to year to optimize the use of their land.
"It's been beneficial to us. It improves the yield, and it helps manage the native species of grasses," Hoyl says.
Since ranching at high altitude is so challenging, the family started raising fish 65 years ago. They sell 23 licenses every year to local families who can fish for rainbow trout in the six ponds on the ranch from May to October.
"We raise fish and we help raise cattle, that's how we make it work," Hoyl says.
Lynn McChesney's purchase of her ranch 25 years ago was fueled by "pure passion." She grew up in the horse industry, but she "was never a kid who had everything," including the horses she would have liked. When she first moved to Boulder County she had a small consignment business, helping people who wanted to sell their horses. She bought the Triple Creek Ranch outside Longmont to continue doing what she loved.
Twenty-five years later, she's doing more than horses shows, training and selling horses. In 2009, when the economy changed dramatically, people stopped paying five figures for horses and everyone wanted to cash out, sell their horses, and no longer pay $600 a month for their maintenance. "I looked at it, like, okay, what am I going to do now? I realized that if my business was a circle, I was only getting one piece of the pie. What about the other 75 percent?"
McChesney asked the community what they wanted, and what she heard was a need for lessons, for everyone, not just those blessed with a higher income, to have a chance to learn about horses. "Everything I do now came from the community yelling their needs out at me. I listened to what the humans wanted."
Today, McChesney offers lessons, birthday parties, horse shows, horse boarding, and horsemanship summer camps. She offers a lease program for families who want to invest in horses and works with Boulder County on a scholarship program for kids who wouldn't otherwise be able to afford a summer camp. "I allow people to enjoy an agricultural feeling and learn as much as they want to learn."
McChesney learned that diversifying made the difference in whether or not she made an income. For her it's not just about the money or the long hours. It's also about running a business that balances the soul. "My ranch isn't a corporate business, it's a heartbeat business."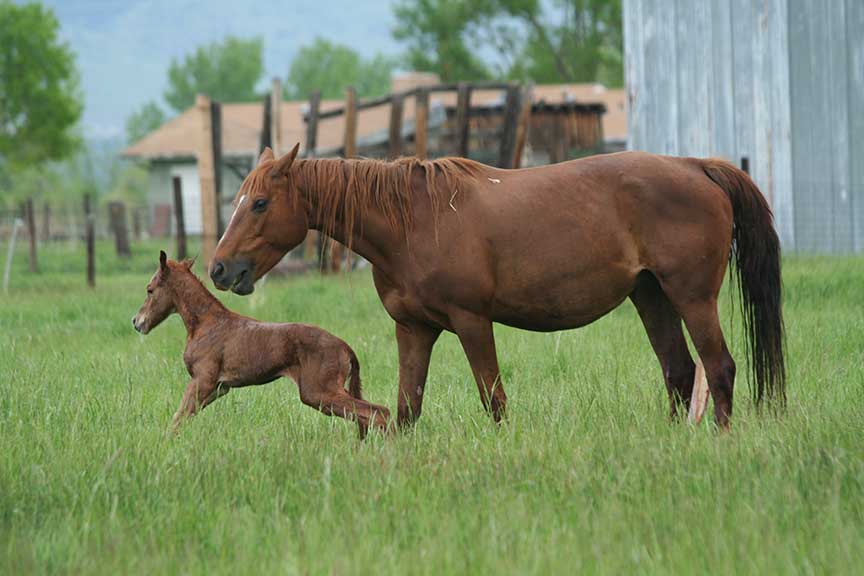 ---
Open Space support
Some of Boulder County's long-time ranches have been consumed by development, but some have been saved through purchases by Boulder County Parks and Open Space and the city's Open Space and Mountain Parks. Recreationists are familiar with some of them, such as Heil, Hall, Walker, and Caribou in the county and Flat Irons Vista, Greenbelt Plateau, and Boulder Valley Ranch in the city. Both programs protect agricultural land, including ranch land, by buying and leasing thousands of acres for agricultural production.
Of the 34 tenants that have livestock on BCPOS land, most have been in the business for around 50 years or more. "There really hasn't been anyone coming to Boulder County to start a ranching operation in the last 30 years. There are larger, less expensive places to ranch," says Vanessa McCracken, Agricultural Resources Technician for Boulder County.
On the city's OSMP land, livestock production is the most widespread agricultural use, followed by hay and forage production. Currently, OSMP leases about 15,000 acres to local farmers and ranchers. About 11,000 acres are used solely for livestock grazing for operations ranging from 30 head of cattle up to 500. About 60 percent of these livestock producers sell certified natural beef.
OSMP goes through extensive yearly planning with the plant and wildlife ecologists on staff to protect and manage their resources, says Andy Pelster, Resources Supervisor. They are in the process of formalizing a plan for grass banks, areas under lease that are not grazed, leaving them available to shift grazing to the most beneficial areas. They also manage for the threatened Ute ladies'-tresses orchid, which relies on an open canopy environment to thrive. "The orchid is a flood plain species, and our plant ecologist samples the population on leased land every year so the flowering numbers are tracked," says Pelster.
OSMP also leases land to local producers for sheep grazing, some pig grazing, and some chickens, primarily for egg production.
___________________
Kay Turnbaugh writes about a variety of subjects for Boulder Magazine. She is the author of Around Nederland, the award-winning The Last of the Wild West Cowgirls, The Mountain Pine Beetle—Tiny but Mighty, and co-author of Denver/Boulder & Colorado's Front Range: A Comprehensive Hiking Guide and Rocky Mountain National Park Dining Room Girl.
Read the story in Boulder Magazine.