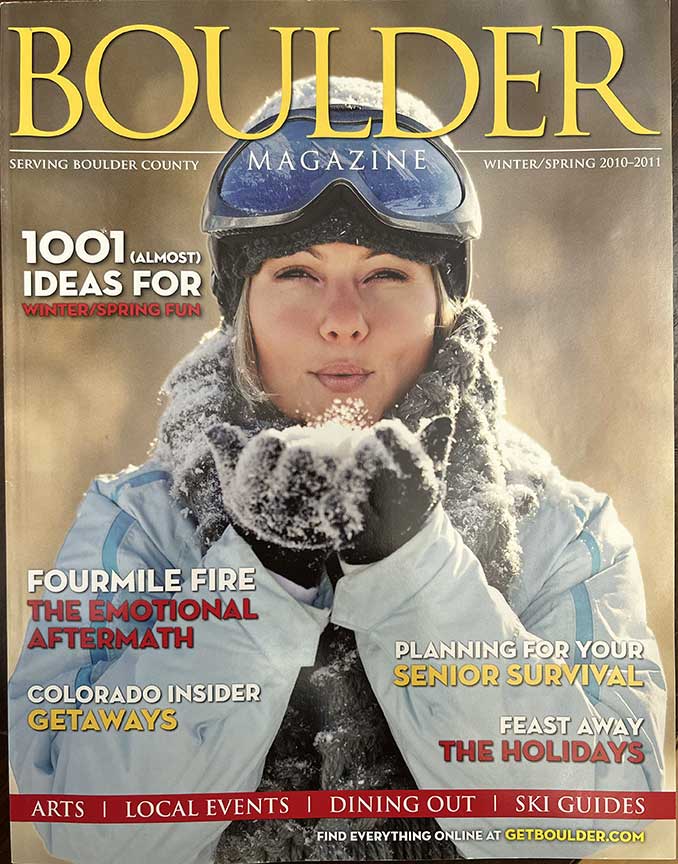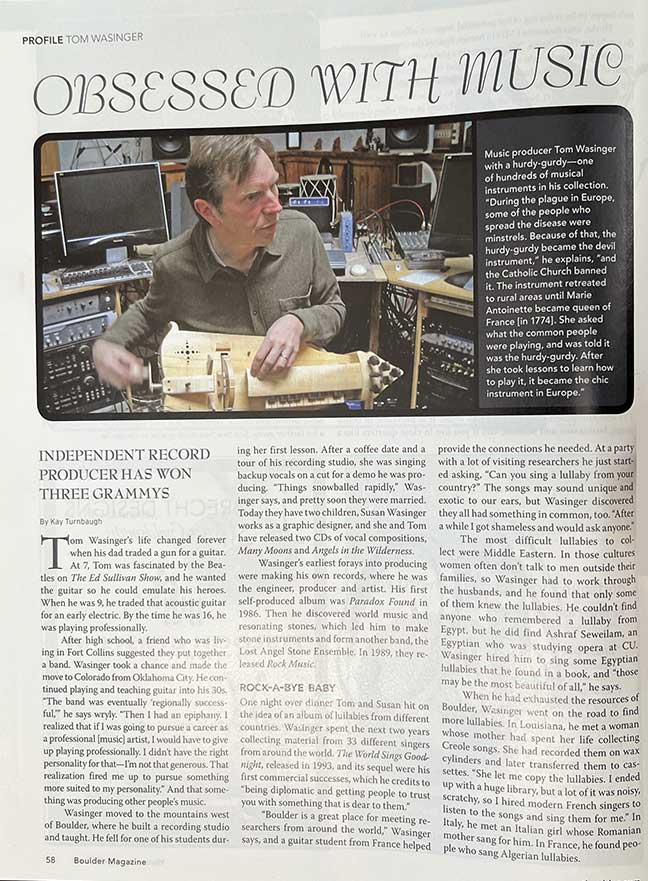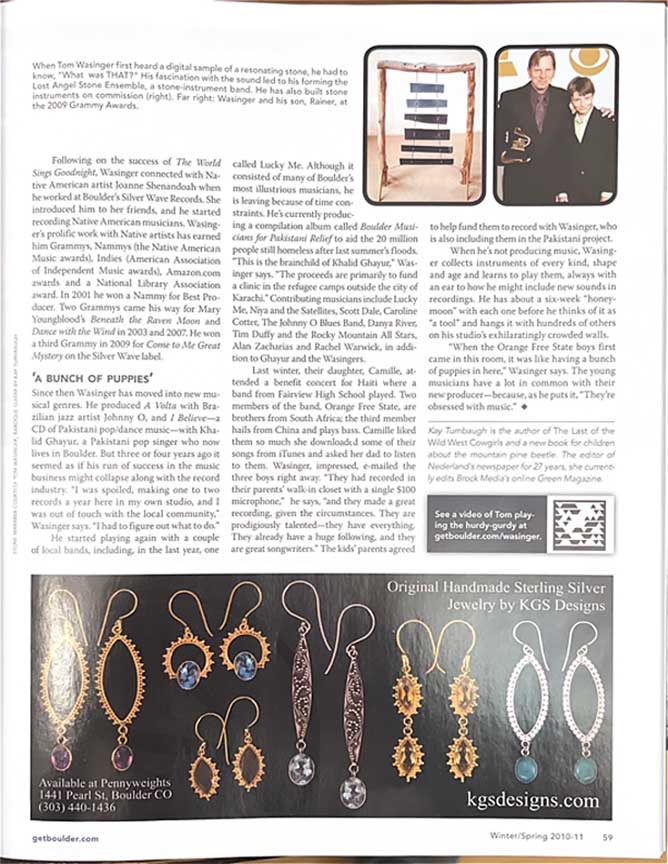 Award-winning producer Tom Wasinger
By Kay Turnbaugh
Tom Wasinger's life changed forever when his dad traded a gun for a guitar. Seven-year-old Tom was fascinated by the Beatles on the Ed Sullivan show, and the guitar was necessary to imitate his heroes. When he was 9, he traded that acoustic guitar for an early electric. By the time he was 16, he was playing professionally.
After high school, a friend who was living in Fort Collins suggested they put together a band. Tom took a chance and moved from Oklahoma City to Colorado. "The band was eventually regionally successful," he says wryly, and he continued playing and teaching guitar until he was 30-something. "Then I had an epiphany. I realized that if I was going to pursue a career as a professional artist, I would have to give up playing professionally. I didn't have the right personality for that. I'm not that generous. That realization fired me up to pursue something more suited to my personality." And that something was producing other people's music.
He moved to the Boulder area where he built a recording studio and taught. He fell for one of his students during her first lesson. After a date over coffee and a tour of his recording studio, she was singing back-up vocals on a cut for a demo he was producing. "Things snowballed rapidly," Tom says. Pretty soon they were married, had a mortgage and a couple of kids. Today Susan works as a graphic designer, and she and Tom have released two CDs of vocal compositions, Many Moons and Angels in the Wilderness.
Tom's earliest forays into producing were making his own records, where he was the engineer, producer, and artist. His first self-produced album was Paradox Found in 1986. Then he discovered world music and resonating stones. "I was playing guitar for a Bruce Osland recording. He had a digital sample of a resonating stone. I had to know, 'What was that?' " Tom's fascination with the resonating stone led him to making stone instruments and forming another band, the Lost Angel Stone Ensemble. They originally collaborated with composer, sound designer and producer Mark McCoin and used a gamelan orchestra, an Indonesian percussion group, as a model. In 1989, they released Rock Music.
Then one night over dinner he and Susan hit on the idea of an album of lullabies from different countries. Tom spent the next two years collecting material from 33 different singers from around the world. The World Sings Goodnight, released in 1993, and its sequel were his first commercial success, which he credits to "being diplomatic and getting people to trust you with something that is dear to them."
"Boulder is a great place for meeting researchers from around the world," and a guitar student helped provide the connections Tom needed. "I had a student from France who was working at NCAR, and he invited me to a party with a lot of visiting researchers where the common language was English. I just started asking 'can you sing a lullaby from your country?' " The songs may sound unique and exotic to our ears, but, as Tom discovered, there was something common about all of them. "After a while I got shameless and would ask anyone."
The most difficult ones to get were the Middle Eastern. In that culture women don't talk to men, so Wasinger had to work through the husbands, and he found that only some of them knew the lullabies. He couldn't find anyone to sing an Egyptian lullaby for him, but he did find an Egyptian who was studying opera at CU, and Wasinger hired him to sing Egyptian lullabies that he found in a book. "Those may be the most beautiful of all," Tom says of the collaboration.
When he had exhausted the resources of Boulder, Wasinger went on the road to find more lullabies. In Louisiana, he met a woman whose mother had spent her life collecting Creole songs. She had recorded them on wax cylinders and later transferred them to cassettes. "She let me copy the lullabies. I ended up with a huge library, but a lot of it was noisy, scratchy, so I hired modern French singers to listen to the songs and sing them for me." In Italy, he met an Italian girl whose mother was Romanian and sang for him. In France, he found people who sang Algerian lullabies.
Following on the success of The World Sings Goodnight, Tom hooked up with Native American artist Joanne Shenandoah when he was working at Boulder's Silver Wave Records. "We got on very well. She introduced me to her friends, and I started recording Native Americans." Wasinger's work with Native American artists has been prolific and award-winning, including Nammies (the Native American Music awards), Indies, Amazon.com awards, a National Library Association award, and Grammies. In 2001 Wasinger won a Nammy for "Best Producer." Two Grammies came his way for Mary Youngblood's Beneath the Raven Moon and Dance with the Wind in 2003 and 2007. Wasinger won a third Grammy in 2009 for Come to Me Great Mystery on the Silver Wave label.
Since then Wasinger has moved into new musical genres. He produced I Believe with Khalid Ghayur, a CD of Pakistani pop/dance music, and A Volta with Brazilian jazz artist Johnny O.
When he's not producing music, Wasinger is collecting instruments and learning how to play them, always with an ear to how he might include new sounds in recordings. "Usually when I get a new instrument, there's a six-week honeymoon, then it goes on the wall and becomes a tool." And the walls of Tom's studio are packed with instruments of every kind, shape, and age.
Three or four years ago it seemed like Tom's run of success in the music business might collapse along with the record business. "I had to figure out what to do. I was spoiled, making one to two records a year here in my own studio, and I was out of touch with the local community."
He began working with a couple of local bands. And then in February his daughter attended a benefit concert for Haiti where a band from Fairview High School played. She liked them so much she downloaded some of their songs from iTunes and asked her dad to listen to them. Wasinger immediately wrote them an email. "They had recorded in their parents' walk-in closet with a single $100 microphone. They made a great recording given the circumstances. Their parents agreed to help fund them recording with me."
Two members of the band are brothers from South Africa. The third member hails from China and plays bass. They call themselves Orange Free State. "They are prodigiously talented. They have everything," Wasinger says. "They already have a huge following, and they are great songwriters."
The boys meet with Tom in his instrument-packed studio after school. "When they first came in this room it was like having a bunch of puppies in here." The young musicians have a lot in common with their new producer. As Tom himself puts it:  "They're obsessed with music."